| | | |
| --- | --- | --- |
| | | |
| | | |
HOME@"@About Copal Inc.


Copal Inc. was established as a trading company of pharmaceuticals in Toyama Pref., a key site for medicines, in 1989. At the launch, requests for law material for 'health food' or 'nutraceuticals' from our customers were more than those for medicines, against our expectation. Accordingly, the major domain of our business gradually shifted to "all-about nutraceuticals", including planning new products and manufacturering private brands for our customers. We have a few people in Copal, however through cooperation with many partners of high efficiency and reliable infomation, we attained the cost reduction and high performance at the same time, which is an ideal for everyone.

Since 2003, we have aggresively entered into another field, "information business." First, we started Internet business support, which covers widely from web page design to Internet business consultation. Also in July 2004, we started a consulting service on China business as an agent of Xinhua News Net Japan, sole Japanese-version-agency of Xinhua News Agency, the largest Chinese news agent.
We always devote ourselves to creating products and services for our customers' satisfaciton by using the state-of-the-art information and technology.
To overseas suppliers: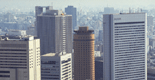 We are always looking for new materials for nutraceuticals. If you have something new, please feel free to contact us. Finishied products are also welcome.
In addition, we are always looking for nutraceutical companies which want to enter into Japanese market. We can help you start marketing your products in Japan, or can become an agent of your company to promote sales of your products. We believe our mission to to make good and wonderful things known to as many as people as possible. We will do our best and sure to push up the sales of your products to the best potential by all means once we accept them. We hope many of you will entrust your products to us.
Any type of inquiry will be appreciated. Thank you.
COMPANY PROFILE
Company Name: Copal Inc.
President: Mitsuji Matsumoto
Established: March 1989
Capital: Yen 10,000,000
Address: 1-19-9 South, Nunose-machi, Toyama-shi, Toyama-pref., Japan 939-8208
Tel: +81-76-421-0411 / Fax: +81-76-421-8120 / Form-mail: https://www.copal-j.com/FormMail/form.htm
Type of Industry: manufacturing and sales of nutraceuticals, printingAconsultation on Internet business, agent of Xinhua News Net Japan
bank of account: Hokuriku Bank Kureha branchAMizuho Bank Toyama Branch
M A P

Click the left bunner, and you can jump to the map site.
Access to Copal: 10 minute drive from Toyama Airport, 15 minute drive from JR Toyama Station.
TEL: +81-76-421-0411 / FAX: +81-76-421-8120 / e-mail: https://www.copal-j.com/FormMail/form.htm


©2003 - 2020 Copal Inc. All Rights Reserved.